2/01/2007 Posted In
Chainmaile
Tuesday night has become a craft night for me and a friend. I usually go over to her house and lug along a tone of different projects and we sit and watch Tivo episodes of Heros. Never seen the show before, and I am still a little lost, but it is fast becoming a favorite.
Last week I brought along the wallet chainmaile I am working on and Devon, her son, immediately was interested. I taught him the weave and set him to work on my chain. He added a good 4" to it
for me
while I taught him.
He mentioned last week he wanted to do something finer for his girlfriend, so I brought some 18g and 20g steel wire with me last night. I showed him how to wrap the wire and cut the rings, and also showed him some weave pictures he could try out.
I also worked on a bracelet I started for T's boss. I had decided on the Conundrum weave and had started it on Saturday. Tuesday night T mentions that the Boss likes red, and it would be cool if I could incorporate red into the bracelet.
Lucky for T, I had some red coated copper wire. So Tuesday night I set to work replacing some of the steel rings with red ones.
Here is the bracelet thus far.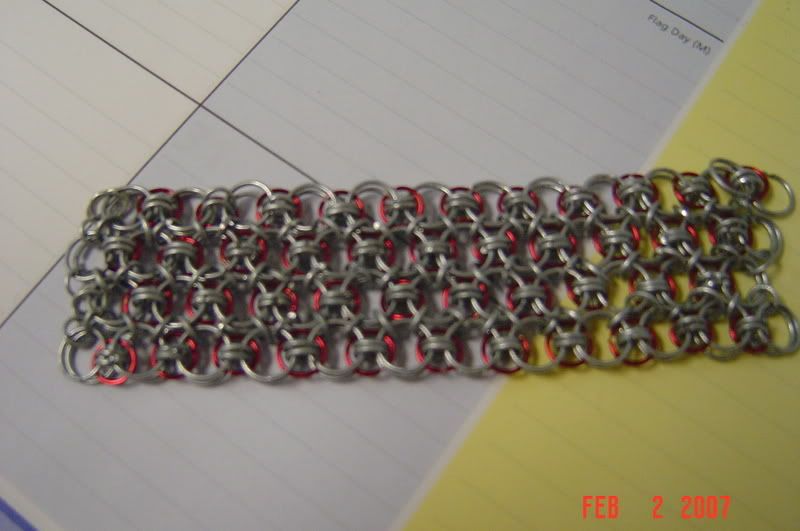 My apologies for the blurry-ness of the picture. My camera battery was about to run out and I didn't get a chance to adjust the lighting or flash.